Rolling Stones and their scene: hidden 60s photographs finally see the light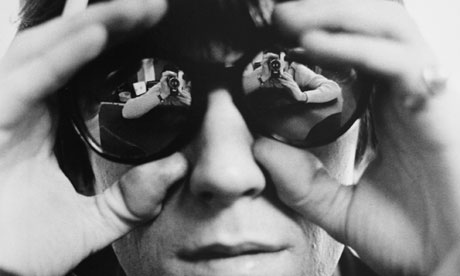 When the photographer Eric Swayne knew he had terminal cancer, he set about tidying up his studio and archives, disposing of a lifetime's hoarded prints and negatives, records and equipment.
When he died in 2007, he left just one large cardboard box marked "do not throw out". His sons opened it to find – to their amazement – images of a lost world of London in the swinging 1960s.
There were hundreds of negatives, unseen for decades, many of which are now about to go on display in an exhibition at Proud Galleries in Chelsea.
They show figures who became icons of the decade: Keith Richards without a line or a wrinkle in a face that now tracks decades of high living; his fellow Rolling Stones, a baby-faced Mick Jagger, preening in a fur cloak, and Charlie Watts, when his trademark mop of white hair was still dark; and Grace Coddington, one of the original supermodels, with her hair newly cut into Vidal Sassoon's five-point bob.
There were also the designers Ossie Clark and Mary Quant, and Swayne's mentor, the photographer David Bailey, lounging around on honeymoon with actor Catherine Deneuve, glasses and cigarettes in hand.
Swayne appears in several shots, including as a reflection in Richards's sunglasses. There are many beautiful shots of Pattie Boyd, his then girlfriend, until she got filming work on the Beatles film A Hard Day's Night – and left him for George Harrison.
His broken heart did heal. Several shots show a gleaming blonde: the model Shirley Ann, whom Swayne later married.
"He had a moment, and that moment passed," Tom Swayne, Eric's son, says. "We knew he had been a photographer in the 60s, and he did sometimes tell stories like Keith Richards turning up in a limousine to collect him to go shopping, and if he liked something buying one in every colour they made. But he didn't talk about it much at all, and I was more interested in football at the time.
"By the time I was growing up in the 70s he was working in commercial advertising and fashion. We just had no idea of how much he had been involved in that whole scene.
"He knew what he had – he died penniless, but that box was his legacy to me and my brother."
Swayne owed his first contact with the 60s scene to a highly marketable skill in Soho, central London: he knew how to make excellent coffee, having run a coffee bar in Paris, in a Britain where coffee was almost always instant and came out of an urn.
"They all came there, including the photographers David Bailey and Duffy," Tom Swayne says. "My dad was a smart, chatty, quick-witted East End boy, just like Bailey, and they got on. When Bailey saw he was interested in photography, he encouraged my dad to pick up a camera and have a go for himself, and he never looked back."
Swayne was on his third career, and in his late 20s, when he started getting commissions, taught himself to develop and print his own work and gave up the coffee shop.
He had first tried following his father into the police force, but was allegedly sacked for altering his uniform to a more flattering fit, and adding smart, non-uniform socks.
"He kind of lived the dream," says his son, who works in film production. "He was in the right place at the right time, and the doors of 60s London just swung open for him. He became part of the gang. It was all so casual then, the access was so easy – and that shows in the shots.
"In the 70s and 80s the whole thing just moved on. He lost his contacts and I think people just forgot about him, but he kept the photographs. They're beautiful. The National Portrait Gallery has taken six, and there's talk of a book. I'm so proud of him."
That other witness to the epoch, Shirley Ann, never speaks about it.
"She's very straight," her son says fondly. "She never liked that whole scene – she was glad to get out of it, and never looks back."